Specs of LED Corn Light 240 Watt
Bright Light:
LED corn light 240 watt can replace 750-1000-watts metal halide and saves up to 80% energy with pure white light.
Easy Installation:
The led corn light 240 watts can be easily retrofit on all the fixtures. LED uses drivers and not ballasts so they should be bypassed.
Better Design:
It provides better cooling with a larger size. The aluminum heat sink and built-in fan guarantee a life-long performance.
Quality and Warranty:
Led corn light 240 watt comes with a warranty of 5 years. The waterproof plastic shell extends the life of the bulb by protecting it from moisture and dust.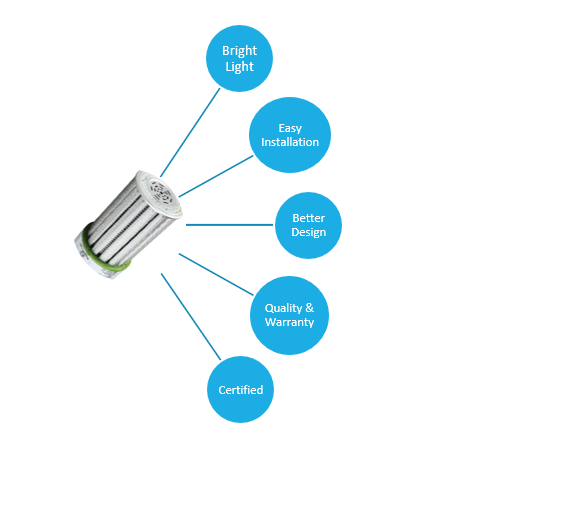 Certified:
The LED corn lights are DLC certified, and UL listed for better quality, safety, and reliability.
LED Corn light 240 watts can be used in any place that requires a lot of lights.  Some of the places where LED lights are used include:
Car Parking
Football Stadiums
Streets
Roads
Interior High Bay Lamps
There is no doubt in extra efficiency and cost-effectiveness but it does not mean that LEDs are problem-free. Some of the common problems that LEDs create are:
Flickering
Buzzing
Glowing
Let us have a look at how to prevent these problems in LEDs.
1.      Flickering:
Flickering is one of the problems faced by LED's. These flickers are notable when they produce 50 flashes per second.
Though these flickers are not dangerous but are very annoying so it is inevitable to fix them.
Types of Flickers: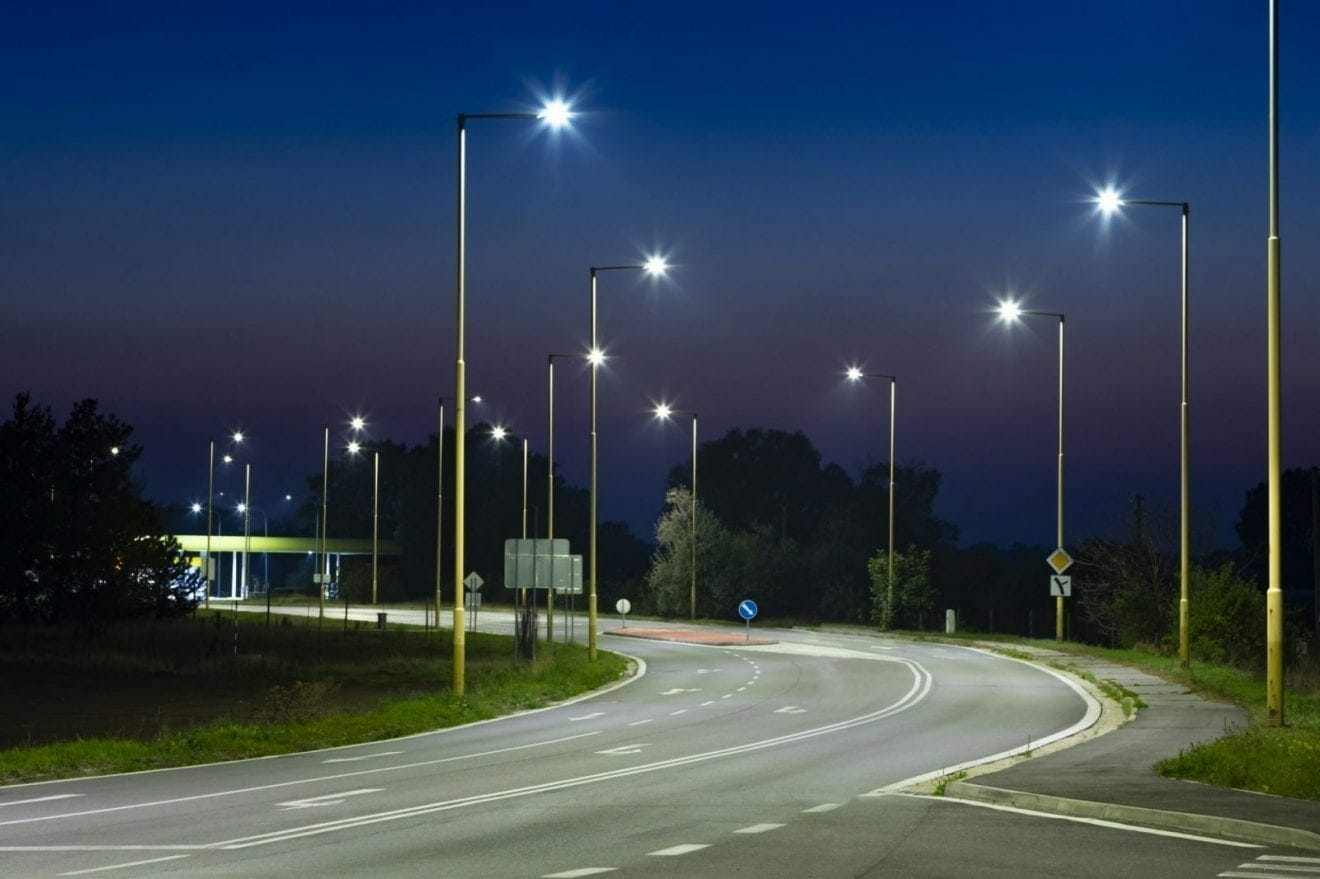 1.       The Visible Flicker:
As the name portrays this flicker is clearly seen by the eye. The output of the light in such circumstances changes rapidly from source light.
2.       The Invisible Flicker:
Such flicker is not obvious to see. The invisible flickers may cause headaches, migraines, dizziness, and general ill-feeling.
Reasons for Flickering:
Let us first discuss the possible issues behind visible flickering;
Bad Driver:
An LED driver is a protective cushion and manages electrical current. There are two types of drivers Constant Voltage LED driver and Constant Current LED driver. The fault in these drivers can cause flickering in the bulb.
The other possible faults that may cause flicker are;
Figure 2Causes of Flickering in LED
Incompatible Dimmer:
A standard LED dimmer cannot dim the light efficiently; you have to find a compatible dimmer to avoid flickering.
The fixture has to be compatible with the dimmer i.e. 0-10v dimmer will be compatible with 0-10V Led Driver.
Lutron diva is one of the compatible dimmers for LEDs.
Loose Bulb or Wire:
Another basic reason behind the flickering of the led would be the loose wire or the bulb not fixed properly.
Low-Quality Bulbs:
The low quality and cheap bulbs also cause flickering.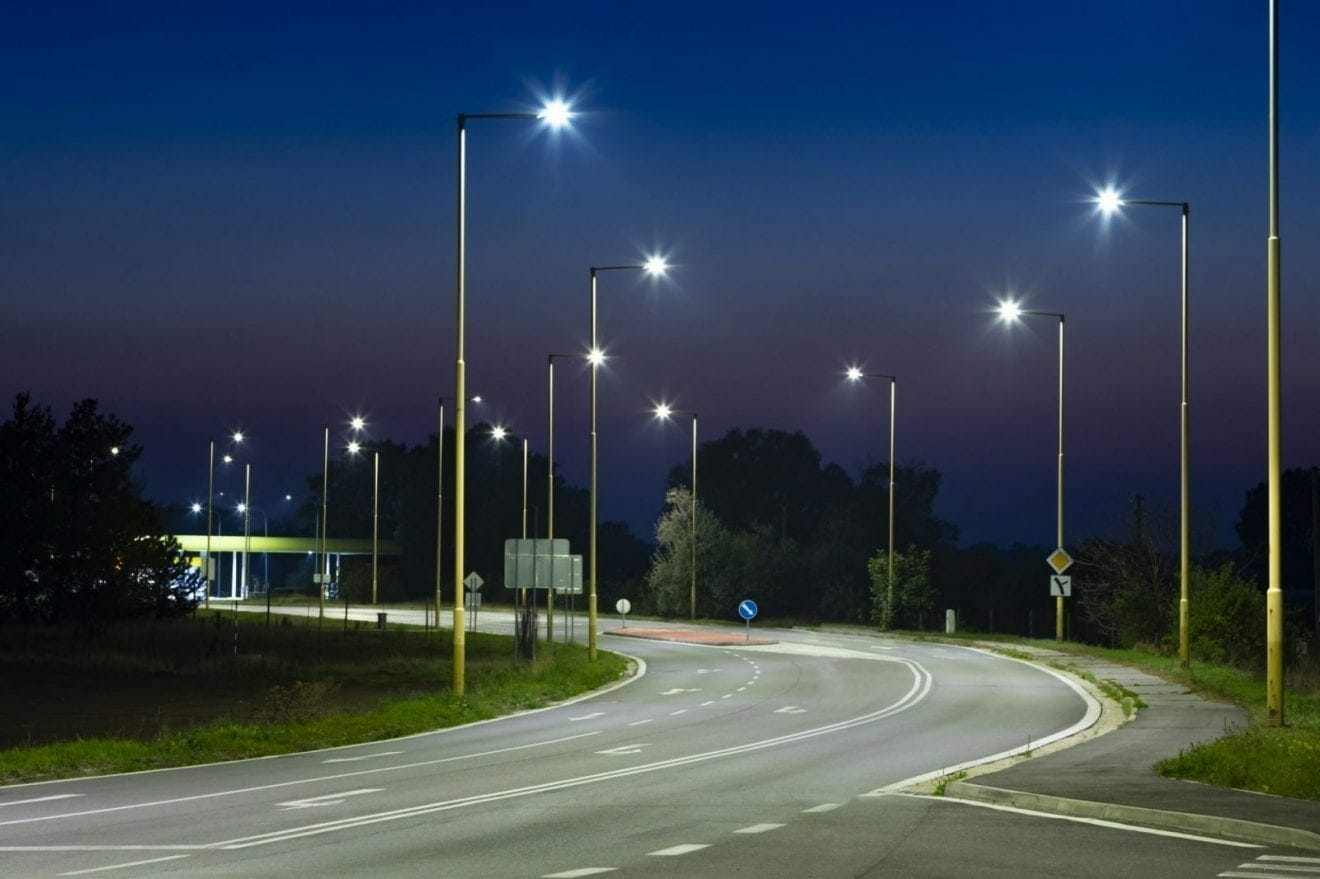 Solution:
Use the best drivers available in your budget to avoid flickering in your LEDs.
If you are aware of the voltage issues, address them thoroughly.
Check if the bulb is fixed properly and no wire is loose.
If you still face the flickering issue go for replacement with a better product.
Consult the special Service to identify and resolve the issue.
2.      Buzzing:
Buzzing is an electric noise made by the vibration of motors or fans in the product. The common reason behind this buzzing would be a loose wire or issue with the bulb.
The other major factors that might cause buzzing are;
Figure 3Reasons Behind Buzzing or Humming of LED
Solution:
Now as you can recognize the possible reason behind the buzzing or humming of your LED just look for;4
·   Assess your electric circuit and see if it is composed of numerous electrical systems that are causing electromagnetic interference resulting in the buzzing of LED. You can seek an electrician for this purpose if you are not a PRO.
If your LEDs are bussing because of an inappropriate dimmer, then go for the replacement with more efficient and compatible dimmers.
Make sure the LED is fixed properly and the wires in the ceiling should also be examined if someone is facing the buzzing issue.
Check the LED drivers for buzzing issues also.
3.      Glowing:
Sometimes the LEDs keep glowing even if they are switched off. This problem usually occurs with low- quality cheap LEDs.
How to Prevent LED from Glowing?
1.       The first thing that you should try to get rid of the glowing bulb should be changing the cheap bulb with a good quality bulb.
2.       The mysterious glow might be because the neutral wire is not earthen correctly, so earth the neutral wire to prevent glow.
3.       Install a Zennor Diode to avoid any kind of residual voltage coming to your LED through wires.
4.       Installing a Bypass capacitor can also resolve the glow issue in LEDs.
5.       Installing a Neon Detector near the end of the fitting is also a good idea.
6.       Opt for LED dimmers to avoid glow.
Technical Characteristics of LED Corn Light 240 Watt
Color Temperature
3000k/3500k/4000k/4500k/5000k/5700k
CRI
>80
Lumen-in-luminaries
32000-35000 LM
Lumen Efficiency
115-125 LM/W
Input-Power
240 W
Viewing Angle
360-Degree
Waterproof Rating
IP-64
LED Type
LUMILEDS SMD2835
LED QTY
240 PCS
Features of LED Corn Light 240 Watt
High Energy:
To save energy is environment friendly and is low on budget as well. The lighting effects are the same as the traditional lights but with ultra-low power consumption and DC drive.
Long-Life:
A good quality LED has a life span of 10 times longer than the traditional light. They are not easy to burn, unlike filament lights. The light body and no-lose part is another exception of LED Corn Light.
Environment protection:
The led corn light 240 watts protects the environment as it neither heat nor radiate. The cold light source possesses no mercury elements and has dynamic effects.
High-tech Tip:
Led corn light 240 watts is a low voltage microelectronic product that gives 5000k bright light. The 360-degree light and 130 lumens high efficiency competently replace 750-1000 watt MH.
Directional Lighting:
Led corn light 240 watts is best for directional lighting and task lighting.
Instant Illumination:
The led corn light 240 watt gives an instant illumination with full brightness from the moment you switch it on.
Reliability:
The led corn light has no fragile parts of filaments and operate safely in cold temperatures as well.
Notice for LED corn light 240 watts users:
Don't forget to turn off the power before installing the LED.
After matching the input voltage and lamps, make sure the wiring section is insulated after connecting the power line.
Before installing the LEDs, make sure to bypass or remove the ballasts.
Led corn light 240 watt is suitable for damp locations. Avoid using dimmers
It is also suitable for enclosed luminaries. The minimum lamp compartment dimension should be 500*280*280 MM.
Seek help from professionals to install and disassemble the lamps.
If your LED corn light is flickering after installation, turn off the power and turn it on again after 3 minutes, and call the agency if the issue does not resolve by doing so.
Package:
The LED corn light 240 watt is packed in double boxes to avoid any breakage. The Lamp is packed in a PE bag and then placed in the inner box weight 1.58 kg and then paced safely in the outer box weight 9.5 kg with 6 pcs of the lamp.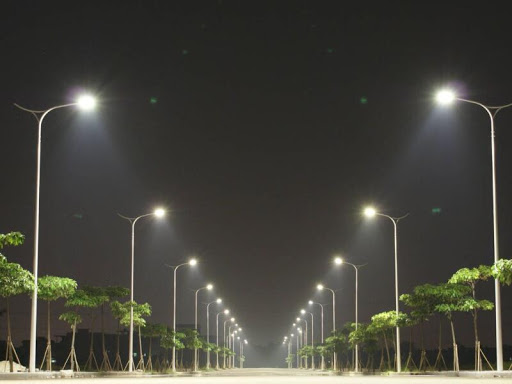 Why Choose Us For LED Corn Light 240 Watt?
Mic-LED has been in the industry long enough to understand and fulfill all customer requirements. Therefore, we produce high-quality products that are long-lasting. Our experts have years of knowledge in developing top-notch quality products. Our LED Lights, Corns light, and numerous other types of lights offer reliability and efficiency.
To ensure that all our products adhere to the highest industry standards, we have the required certification. You can talk to our customer representative in order to learn more about our products and services.