Guide to LED Corn Light
Buying the right LED corn light can be tricky.  To decide this, it is important to know what a LED corn bulb is.  Although they are quite common, still many people do not know what a corn bulb is. They play a very important role in lighting different areas successfully.
There are many options in LED lighting, and a corn bulb is one branch of it.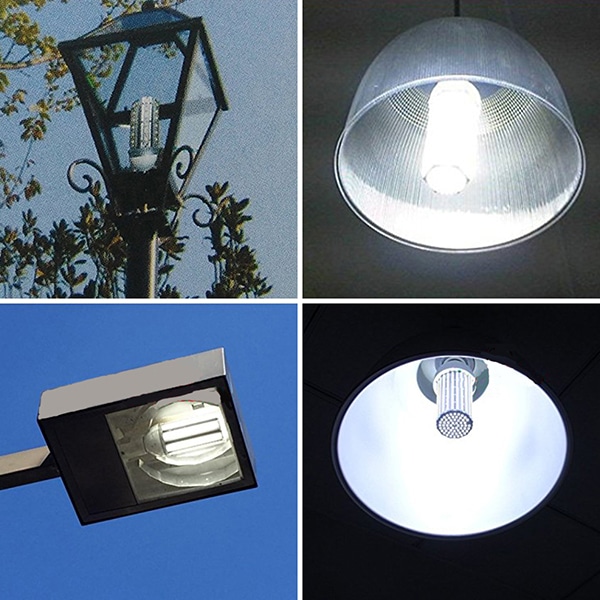 Choosing the Right LED Corn Bulb
There are proper guidelines in choosing the right LED corn bulb.  It is important before installing them to know all your requirements. Your requirements must fall within your area specifications. To buy a corn bulb light for specific areas main get complex.
What is Corn Bulbs?
The reason why LED corn bulbs are named after corn is that their shape is in the form of a corn on a cob. They have sequenced light in square-shaped diodes. These lights scatter on all sides of the tube. Each tube contains a separate LED light.  The variation of lighting in each tube can range from 80 to 100 lights.  Even LED corn bulbs come in different sizes and styles.  The size and style of the corn bulb determine the number of lighting inside the tube.
Basically, corn bulb introduction was made to replace high-intensity discharge lamps (HID). Moreover, they presented a good substitute for all metal halide bulbs. Their usage includes parking lots, street lighting, and much another high-bay lighting that surrounds the outside or the exterior of the building.
The Popularity of LED Corn Bulb Lights
In these past few years, LED lighting has made its place in the market like no other lighting system. Although there are various reasons for their popularity the most famous one is the simplest one. And that is its easy installation.
Moreover, another added reason for their popularity is that they have the ability to eliminate any area when compared with any other incandescent light.
Basically, they are much more energy-efficient than any other lighting system. Furthermore, their maintenance and replacement cost is almost minimal. So we can easily establish that they are quite easy to install and inexpensive when it comes to your maintenance.
Since they have such low maintenance they attract more and more audiences towards their qualities. When compared with ordinary bulb life they have a life span that can extend more than 20 years. This happens to be five times more than any other ordinary light.
Finding the Correct Base
There two types of corn bulb base. The first one is E26 and the second one is E39. The following are details of each base.
E26 Base Corn Bulbs
The most common name for the E26 base corn bulb is Medium Edition Screw or 1-inch Edison screw. It is the standardized kind of base that most of the corn bulbs use. As the name suggests, E in E26 stands for Edison while 26 shows the circumference diameter of the base in millimeters.
It is very common for an E26 base to support a 120-volt bulb. You can commonly see them in residential areas.
E39 Base Corn Bulbs
Normally you can refer to them as Mogul Edison Screw. Often they take the name Goliath Edison Screw as well.
In E39, E stands for Edison whereas 39 is the circumference diameter of the base in millimeters. They are especially famous for use in industrial and commercial areas. In some areas, you can see them in farming constructions too.
Due to their bigger diameter, they are mainly focused on areas like factories, barnyards, and storage homes.  The reason for their installation does not limit to its diameter only. Their support for 250 voltages is another major reason for or their excessive usage commercially and industrially.
Choosing the Right Lumens
Another important factor that needs consideration is when choosing the right lumen. It is necessary to look for the right lumen instead of looking for the watts a bulb can support. Moreover, measuring the watts only shows the amount of energy that a bulb can release and how bright it can light itself.
In this manner, LED is always the right choice when compared with the HID. You are making the right decision if you are switching your HID lights with LED lights.
For measuring the brightness of LED there is a whole different kind of unit and that is known as Lumen.  You can use a lumen as a unit for measuring the brightness of a LED bulb.  So when you need to buy an LED corn bulb you must look for the lumen it operates on.
When determining which kind of LED corn bulb you should invest in, you must look for a light that has approximately 12000 to 18000 lumens.
Choosing the Right Color for a LED Corn Bulb
A corn bulb is available in a variety of colors.  It is up to your specifications and requirements to choose whatever color is most suitable for you.  The following are the color choices for a LED corn bulb.
The 3000k LED corn bulb has a warm whitish hue. This is why it is most suitable for residential areas and commercial areas like restaurants. They have the ability to create a homely feeling.
A 4000k LED corn bulb produces a very natural kind of white light. Businesses make use of these colored lights in places like offices. The reason to choose this is that it gives the same feeling as daylight would.
Next is the 5000k LED corn bulb.  This is also a white light but it is majorly related to large exterior spaces. Open-air spaces can make use of such colored lights.
Although there are many other choices than the above-mentioned ones, it is not feasible to use any colors that are higher than these. The reason you must not choose lights higher than these colors is that they can be harmful to humans as well as the environment. Colors that exceed more than 5,000 can interfere with melatonin production.
Comparing the 360 and a Flat Bulb
LED corn bulbs come in two types. Both have the major difference in lighting area. One can provide lighting for 180 degrees while the other one can provide lighting for 360 degrees.  It can difficult to choose the right one. But here are a few tips to decide which one is right for you.
A 180 degree light can only illuminate in a downhill position. It has limited coverage.
While on the other hand, a 360-degree light can focus all around. It has better illumination. It gives light provision in 360 degrees that too in very reasonable prices. You can use a reflector to spread the lighting evenly.
This is why when you want to light outdoors, a 360 degree light is the right call.
Summary
It is significant to choose the right kind of LED corn bulb for your surroundings. It might take some time in deciding the right one but it will be worthwhile. They can change your place from drab to fab. Although the variety of corn bulbs out there can cause confusion but once you put the pros and requirements of your space in your mind, it can be a piece of cake. They are the next generation light because they work simultaneously in helping the environment. They are eco-friendly and very inexpensive. Thus, they are a smart intelligent choice.
For More information, Contact Us Today!