The Most Commonly Used Canopy Lighting
It is common for LED lighting projects to have customized applications. It is common for a led canopy light to have multifunctional properties.  The most modern kind of led canopy light is small, petite, and mounted on the surface of light fixtures.  They require very little voltage due to their LED advanced technology.
The led canopy light has different variations. The most common of them are small canopy lighting fixtures, slim-line Lighting Fixtures, surface-mounted canopy lights, recessed canopy lights, and low voltage LED canopy lights. The following are some of its divisions and properties to understand their usage. It is important to understand the functionality of each light to get the maximum benefit out of it.
The availability of different kinds of LED canopy light shows that they can be chosen for different kinds of applications depending on a person's preference.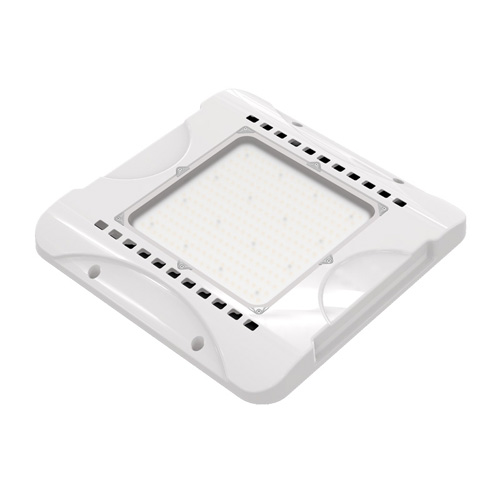 Small Canopy Lighting Fixtures
Over the past few years, led canopy lighting has made its own niche in the market. Their most trendy property is that they come in very small fixtures that range from 5 to 7 inches.  This compactness in diameter helps in providing lighting in areas that require fixtures in a very compact and focused form.
Moreover, they are a great way of providing lighting solutions in places where precision is of utmost requirement.  They provide lighting effects that put the focus on specific items.  Rather than focusing on the source of light, led canopy lights focus majorly on the thing that needs light to gain attention from the observers.
It is a legit way of grabbing attention and focus from the audience. LED canopy lights provide an obstructing view of the focused object. The more compact the design is, the more it will provide discreet attention.
Slim-line Lighting Fixtures
When it comes to slim-line lighting fixtures, they have very compact, inexpensive, and glowing properties. They are quite resourceful because they save energy due to their LED qualities.  The name slim-line suggests that they are very small in size as compared to other led canopy lightings.
Their size allows the user to hide them from the naked eye, such that it doesn't take away the focus from the main object. They are small but very powerful to brighten up the focused object.  It is one of the best choices when choosing from the available led canopy lightings in the market.
As per applications of a slim-line LED canopy light, the fittings usually have a placement distance of 4 to 6 feet between them. In some instances, if the purpose of providing light in the entrance is the major requirement, then these slim lights are placed at a closer distance to focus on the main point.
While on the other hand, these lights can have a placement that follows the design aesthetically.  They can have the dual purpose of providing functionality as well as aesthetic sense to a certain place.  You can easily use them in creating a certain mood and vibe in any specified place.
Surface-Mounted Canopy Lights and Recessed Canopy Lights
Industrially, the most common LED canopy lights are surface-mounted ones.  The recessed canopy lights do not resist water hence, they are not waterproof.   This is the major drawback when installing them in an outer environment.  They might not pass the test of whether endurance for much longer.
On the other hand, surface-mounted canopy lights have double layering when compared with the recessed canopy lights. They are a better choice when you want to install LED canopy lights on the outside structures of a building.
These are waterproof with parts that are shockproof as well.  Furthermore, they have incorporated safety features that require very little voltage to operate.  They are a very durable, dependable, and visually pleasing choice in outdoor lighting systems.
Low Voltage LED Canopy Lighting
With the use of advanced technology, low voltage LED canopy lights have completely transformed the world of lighting. They are a complete package. This package includes arrangements and mechanisms that amalgamate with easy fittings that provide adequate security during and after the installation.
The usual, standardized 120 voltage lighting did not meet the industrial lighting needs; hence the manufacturer had to come up with a lighting system that runs on low voltage like 12 volts.  Nowadays, this is an average benchmark for lighting systems in outdoor and industrial uses.
Usually, a low voltage canopy light has a very small source of lighting which is easily modifiable in order to accommodate the lighting fixtures in different places. Moreover, operating a low voltage LED canopy light is much safer than any other lighting system.
Technical Aspects of LED Canopy Lights
The most recommendable LED canopy light is the one that produces 100 to 250 lumens. This is why they can provide a widespread of beams that wash the canopy in an even lighting layout.
The temperature for the light color has to range from 3000 to 9000 Kelvins. In order to provide a yellow lighting effect, you can choose from a range of 3000 to 4500 Kelvins, otherwise, if you want to go for a blue light, you can set the temperature at a much higher range that can exceed 4500 Kelvins.
The preference of controlling the temperature of the color totally depends on the clients and their application requirements.  The customizable option in the technical aspects of LED canopy lights is a feature that attracts much industrial and outdoor functionality.
Availability of LED Canopy Lights Online
https://www.mic-led.com/ has some great options for LED canopy lights that are available online.  The following are a few of their products that feature canopy lighting.  They have very sound lighting solutions with distinctive features.
Daylight 80w 120w High Power LED Corn Bulb
The daylight 80w 120w High Power LED Corn Bulb is their most popular and high in demand light. It has a very powerful R&D ability. A special professional team comes with its installation. It provides a very rich lighting experience, especially in industrial areas. It has a life Span of 50, 000h with a base of E40 and E39. The IP Rating stands at IP66 with a guarantee for 3 years.
T Series 200w LED Flood Light
The T Series 200w LED Flood Light is another lighting solution in canopy lightings. It is a trendy choice that is beyond expectations. Thus, it easily fulfills the basic requirements in providing focused lights. It has the following features. Its Input Voltage is AC85 to 300V with a LED Span of 50, 000h. It has an IP Grade of IP66 and a PF Rate that is less than 0.95.
Conclusion
LED canopy lights are featuring many small elemental changes, and design aesthetics as well. The trend of installing slim yet powerful lighting is getting much popularity. These lights provide precision while keeping much focus on the highlighted object. Furthermore, they have benign and efficient technology that has inbuilt safety features.  You can easily customize it and use its different variants as is desired by the client.  Installing such lights majorly shows that their placement is very important, aesthetically as well as functionally.  The client can easily set its place, spacing, and temperature by opting for lights that are most suited for their desired location.
For More Information, Contact Us Today!