A  Guide to Solar LED Flood Lights
In order to understand the best uses of solar LED flood lights, it is imperative to understand what they are. The Solar LED flood lights take power from solar energy.  Being flood lights, they have a very wide beam that focuses on flooding an entire area with light.  These lights take power from solar panels and batteries.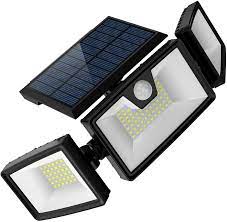 In simple words, solar power absorbs energy from the sun in the daytime and stores it to feed the batteries.  Later on, they transfer the power to the batteries at night for them to operate.  This kind of solar LED flood lights do not need any external source of power because they are self-sufficient.  Due to their wide usage, manufacturers are manufacturing them in different shapes, sizes, dimensions, and price ranges.
The Explanation for Solar LED Flood Lights
Using flood lights is becoming a very fashionable trend amongst people.  It is a unique way of lighting certain areas in an aesthetic fashion.  The reason they are becoming very popular is because of their large area coverage.  The solar-powered LED floodlights can light very large spaces like auditoriums, stadiums, theatres, parking spaces, and many more options than you can think of.
It is exceptional how it provides and caters to both; commercial and residential areas.  They are a great way to add security to your existing spaces.  It is obvious when large flood lights, flood your surrounding area there is a lesser chance of thefts and security breakthroughs.
Even if you live in a dingy area, solar LED flood lights are a great way of creating an illuminated environment.  The solar LED flood lights have an inbuilt beam that produces very intense and high-quality lighting. They are much heavier than ordinary lighting systems hence you might need a professional to install them. Moreover, the installation must make sense in placement, such that they get direct solar energy from the sun without any hindrance.
In technical terms, the LED solar flood lights charge by photovoltaic energy that they preserve from the sunlight.  Later, they use the preserved energy to power the battery for further usage.  The solar LED flood lights provide very high-level illumination and generate almost zero to minimum operating cost.  The placement of these lights matters a lot therefore they must situate at an exact 45-degree angle from the sun.  They consume very little energy and have very low maintenance costs.
We cannot emphasize enough the importance of placements of these lights because the wrong location can hinder the light quality and can be a waste of money and equipment.
Types of Solar LED Flood Lights
There are different types of solar LED flood lights available for consumer use. The most common types of LED floodlights include the All-in-One LED flood light and the split solar-powered flood light.
The All-in-One Solar LED Flood Lights
This is the type of solar LED flood light that makes use of batteries with LED modulation.  Moreover, it has an inbuilt controller and a solar panel that integrates with the complete structure.  This type of light is prone to commercial use and makes use of the easy installation. It is suitable for the regular type of users.  Usually, this type of light comes in a single piece with a simple physical look those appeals to the customer's eye.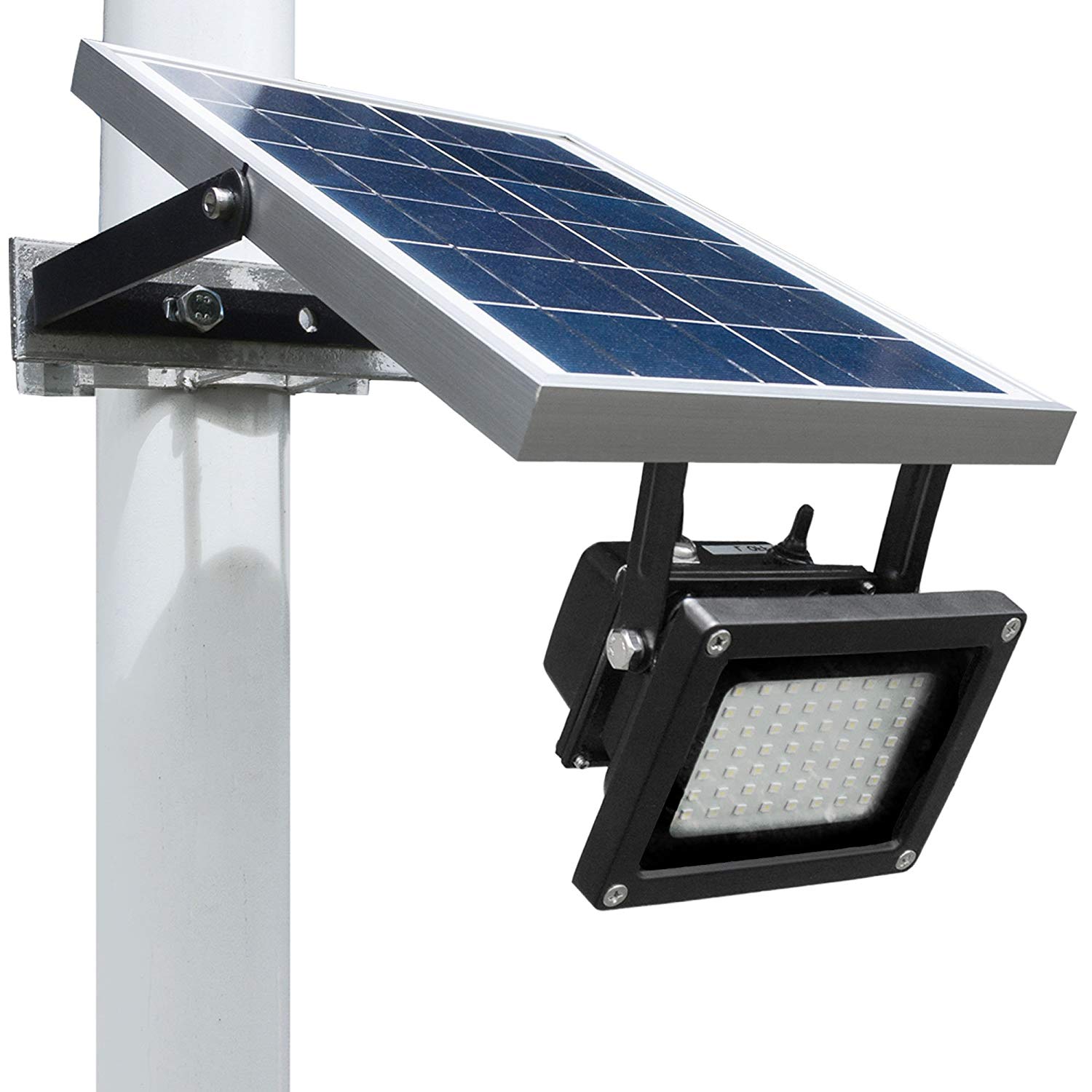 The Split Solar Powered
This type of solar LED flood light that focuses on the split solar-powered design is dominating the market due to its controller and battery qualities.  In this kind of light, the LED solar panels have a separate placement. This placement requires special installation and a comprehensive wiring system.  This is a more feasible choice for complex areas that includes commercially operated spaces. This makes the physical appearance a little less appealing and demands a professional to install them. In this design, the solar panel is in a split form hence the name Split Solar Powered Solar LED Flood Lights.
Characteristics
There are many beneficial and advantageous characteristics of solar LED floodlights.  The most popular one is the availability of motion sensors inside the these lights.  This helps the light to detect infrared rays through the sensors.  We as humans radiate energy all the time hence when the light detects motion, they light up automatically.  This helps in saving costs and energy consumption.
Moreover, it is an ideally suited solution for dimly lighted areas like garages, backyards, and driveways.  This kind of light is a great piece of security in itself.  The type of inbuilt sensitivity that is available in the light can help in optimizing functionality for consumer use.
Another quality that LED lights to possess is the day and night sensors.  This is especially important for the perfect functionality of the flood lights.  It is important for the light to judge the time of the day. The solar panels activate as soon as the sunlight comes up. It automatically switches off when the sunlight deteriorates. At this time, the batteries switch on and power the light at that time.
Some light seven have remote sensors that allow the user to function the light via remote controls. Even if the lights are placed at a height, the user can easily control them according to their needs. This option is feasible for placing these lights in large yards, open-spaced grounds, and many similar spaces.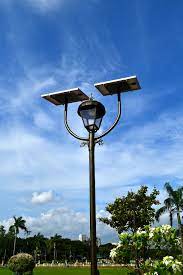 Conclusion
The Solar LED flood lights are very highly powered lights.   They provide quality lighting solutions for different places by using energy from sunlight. They are not only cost-effective, but they tend to last long as well. The most common places to install these LED flood lights are the residential areas for security reasons, garages, and exterior areas surround the buildings and such similar installations. It is an excellent lighting solution for different places, plus it offers a viable solution for different security breaches. Hence, this is a useful lighting technology for many reasons.
For More Information, Contact Us Today!