LEDs are everywhere. They're used in numerous applications including electronics, outdoors lighting, to automotive and signage industries. They're in demand because of their efficiency, color range, and long lifetime. With LEDs being so common these days, even flood lights use LED technology. Finding the best outdoor led flood lights can challenging, but you don't have to worry. We will provide you a list of the best flood lights available.
Homeowners prefer to use the best outdoor led flood lights to make their backyards or driveways more sound and secure by adding light to dim areas. Lighting up your backyards or driveways can add aesthetic details to your property. Also, it is a way to add extra security to your home. The best outdoor flood lights don't just lighten up your space, they are also very simple to install and have a lifelong capacity.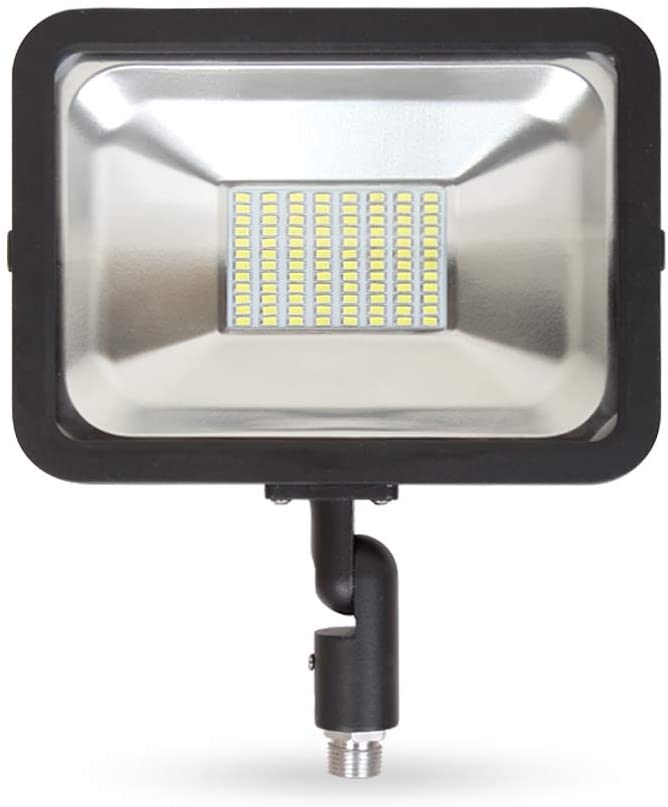 With all that being said, let's list the best outdoor floodlights available online.
The top 8 best outdoor led flood light brands, overall, on the market today are:
It is one of the bestselling outdoor security cams that surveils a large outdoor area. Also, it has motion-activated LED floodlights and a built-in alarm system.
It observes your house in 1080HD video using infrared night vision and live view. The light even sounds an alarm when the sensor detects trouble. Easily connect with Amazon's Alexa to talk with visitors at the front door using your phone, tablet, or laptop.
Can be used in driveways, Patio, Front Yard, Garage. It has the following qualities:
Motion Sensor
3100 Lumens
3 Adjustable Selectable Color 2200K-5000K, 40939, White 3 Head
It delivers bright light when set to security mode. The light also detects motion which is an added and extra-security benefit of this product. It has selectable options so you can choose when and how long it should the detection range last. To complement your outdoor ambiance for special occasions you can select different light temperatures.
It has two or three heads which come in white or bronze color. It's completely your choice to set it to remain on, or only when there is a motion or lit up from dusk till dawn. It's easy to install and mount on walls and comes with all the hardware used.
It comes in two colors, white or bronze to match any color scheme in your house. In addition, it provides wide-angle coverage and fits easily in most places due to its low-profile design. It is made up of brass material and roughly weighs up to 1.3 Pounds. Furthermore, it is a direct replacement for traditional halogen. It has 35,000 hours lifespan and saves up to 90% of your energy. And don't ever worry about installation because the manual is here for you!
This modern plastic material sensor solar floodlight weighs 3.35 ounces. It provides brilliant illumination of up to 8- lumens. This outdoor light has a wide-angle range of up to 260 to 270 degrees. It has one reliable dedicated motion sensor. Also, it has a waterproof light bulb with IP65 technology and it is made to last for years.
It can save up to many bucks due to the LED solar light which charges during the day and serves you well at night. Hence, it provides up to 12 hours of illumination from just 7 hours of charging. This is the perfect item for someone who is looking for a reliable lifetime outdoor floodlight LED product. In terms of both money and energy optimization.
When it comes to brightness and energy reduction, these 3 super bright LED lights produce up to 3500LM high brightness output. Not only, but also, saves up to 80% of your electricity bills.
It is made up of an adjustable design to adjust 3 light heads to different angles in your parking lots, garage, entryways, workplace, studios, and any other fields.  Besides this, IP 65 Waterproof rating ensures that your triple head security light fixture won't give up in rainy, sleet, damp, or snowy weather conditions. This product is also ETL-Certified and the manufacturer also provides a 5-year warranty policy.
If you are looking for a more decorative entrance, then you have got this amazing Shaker Cove Light from Health Zenith. It has clear seeded glass with an oil-rubbed bronze finish.
This high-tech craftsman lantern is a mixture of classic and modern styles. It uses 60-watt max medium base incandescent bulb which you have to purchase separately. In addition to its motion-activated nighttime lighting which detects motion up to 30 feet away. It has the following dimensions: 4.4″w x 6.6″d x 11.1″h. And the manufacturer provides a warranty of 2 years.
When talking about bulbs, you've got the best outdoor bulb which is the Sylvania Night Chaser. It has ultra-bright Halogen Replacement technology which illuminates 2,650 lumens of light. It is a perfect replacement for short-lived halogen bulbs. Besides, it also saves up to 87% to 90 % of energy when compared to a conventional incandescent light bulb.
Also, it has a 25,000 hours lasting bulb, so forget about climbing up the ladder and replacing your bulb. Say goodbye to that cruel and tiring practice.
It is perfect for illumination for general tasks or indoors on high ceilings in living space. It comes with a dimmer which you can dim down to 10%. In addition to its compatibility with other LED dimmer switches.
You can use the dual-head security features and high-quality motion sensor for commercial and residential purposes. Also, it has a 180° detection angle and 70ft long detection distance. It comes with three operation modes: On time, Auto mode, and Dusk to Dawn features.  Only the on mode allows manual control of light.
Furthermore, it comes with IP65 waterproof property which can be used as protection during harsh and humid weather conditions. Not only so, but the manufacturers also provide a warranty of 50,000 hours. You can also save up to $715 by replacing the 150W halogen fixture with their 20W LED motion light. In addition to saving 86.7% of energy expenditures.
The 5-year product warranty guarantees your rights and interests from the day you make the purchase, providing lifetime-friendly customer service for you.
You can always return and have your refund back as the store is open 24/7.
This high-power LED indoor and outdoor lighting has passed ISO9001 international quality system certification and ISO14001 international environmental management system certification. People mainly use it in exterior wall lighting, Railway stations, ships, construction sites, tower cranes, and other lighting.
Take Away
Our best choice for outdoor flood lights is the Vivid Motion Sensor Solar Lights. Its bright LED bulbs, motion sensor capabilities, solar properties, multiple modes, and this fixture shines above the rest. However, if you are considering a little cheaper yet a perfect floodlight with minimum capabilities, then Amico 3500LM LED Security Light is recommended. It is water-proof, adjustable, and has a lifetime warranty.
For More Information, Visit Our Website!