A high-power 150w led flood light is a high-intensity light with a broad beam angle. Such lights are common choices for outdoor lighting. You would usually find floodlights in public spaces, like plazas, roadways, pedestrian areas, and architectural illumination. These lights are also used in concert areas and sports venues, including football fields, stadiums, and sports halls. The bright white lights you see in live concerts are also the floodlights. These lights have become popular because many sport leagues need high-power lights to mimic daylight at night.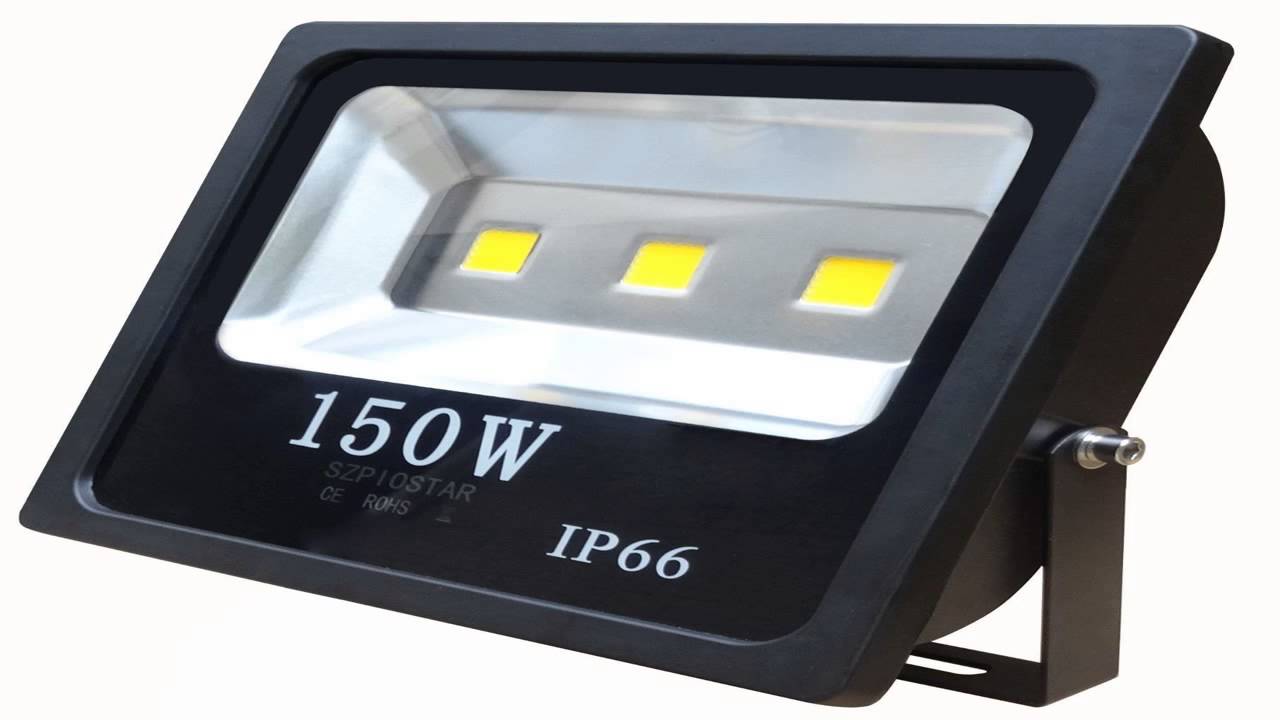 High Power Lights: 150w Led Flood Light and Other Options
You can choose from a broad range of Led floodlights according to your requirements. You can buy these lights in different power ranges, sizes, and shapes. If you are looking for a floodlight for a small stage or walkways, you can choose a 30W or 60W floodlight. These light bulbs will provide adequate light for such environments. You can mount these lights in different ways. Different designs of floodlights provide the following mounting options:
Hang on wires
Mount on poles
Recess in pavement
30-60 Wattage Range Fixtures
Typically, a smaller floodlight fixture in the 30 to 60 wattage range features aluminum housing. Its color temperature will be between 6000-7000K for the cold light and 2700-3900K for the warm light. These fixtures come with a single Led unit with 80 chips. Take a look at the following details for more information.
CRI (color-rendering-index): Ra>78
Luminous efficiency: 90-100 lm/W
Power factor: >0.98
Working voltage: 85-265 VAC
Frequency: 50-60Hz
Power consumption: 30-60W
The above-listed information varies according to different models of led floodlights.
330-400 Wattage Range Fixtures
Other led floodlight fixtures come with 330-400 wattage. These floodlight fixtures are suitable for large areas, such as concert stages and sports arenas. They have 27000-30500Lm luminous flux, and the light source consists of 4×80 chips. These lights consist of tempered glass, offering uniform and top-grade illumination without any shade. The voltage on which they work is AC100-240V with 50-60Hz intensity.
Power factor: >0.92
Color temperature: 2800-7500K
CRI (color-render-index): Ra>75
Luminous efficiency: 85-95lm/W
Beam angle:  60-degrees vertically and 120-degrees horizontally
150 Wattage Fixtures
A 150w led flood light is a perfect choice for the outdoors. It is suitable for areas like gas stations, workshops, warehouses, garages, and parking lots. 150W floodlight is also best suited for industrial lighting. Like other high-power led floodlight fixtures, it also comes with a weather protection feature to resist harsh weather. Take a look at the following technical specifications of a 150 wattage led floodlight.
CRI (color-render-index): Ra>70
Input voltage: AC 85-265V
Lumens: 11400lm at 2700-3200K
Power factor: >0.90
Beam angle: 70×140 degrees
Typically, all floodlights solid build and last longer. A high-quality led floodlight should work 50000+ hours with little maintenance. They have such a long lifespan because they have high-quality aluminum housing with rubber gaskets. Therefore, these lights resist natural elements and temperature fluctuations.
The best thing about these floodlights is that they operate between -40 to +50 degrees temperature. However, it is necessary to choose a high-quality fixture.
Choosing the Right Led Floodlight
Choosing a suitable 150w led flood light or different power wattage light may seem a straightforward task. However, the reality is a little different from it. Several companies are making led floodlights with other powers and features. Their quality varies from one product to another. When choosing your led floodlights, you should keep the following points in your mind.
1. Light Brightness
The light brightness comes first. Before you consider any other thing, decide the level of luminance you need. Choose brightness according to how large the area is. Different wattage lights are available to illuminate different areas. For example, you can choose from 20W, 50W, 150W, 200W, or other wattages according to your use.
It is necessary to ensure that the wattage you choose isn't too low or bright. It must provide adequate brightness to ensure clear visibility in the area. Installing a too bright led floodlight can disturb your neighbors, and they may complain about it.
2. Waterproofing Rating
Waterproofing is one of the essential features of any outdoor light fixture. It is necessary because the light will be up against rain regularly. Make sure that the 150w led flood light you buy is entirely waterproof. Ideally, it should have an IP66 waterproofing rating, which is a basic need for outdoor lights. Buy a floodlight that is made of tempered glass and aluminum housing. It will ensure that the light can operate flawlessly in rain, snow, and sleet.
3. Light Warranty
It's a fact that led floodlights last longer than traditional halogen lights. Therefore, the manufacturer should offer an extended warranty of the ked floodlight because of the high quality of the fixture. For example, a high-quality floodlight should have five years warranty.
4. Service Life
A 150w led flood light has superior energy efficiency and extended service life than traditional halogen lights. A high-quality led light is 80% more energy-efficient than the same wattage halogen bulb. Therefore, you must also inquire about the service life of the led floodlight.
5. Fixture Design
Led floodlights are available in various designs and shapes for the different types of installations. You can install these floodlights onto walls, ground, poles, and ceiling. Choosing the wrong floodlight design can create hassles while installing. Therefore, make sure you select the most appropriate floodlight design according to your use. Usually, these lights are easy to install and may not require professional installation.
6. Type of Floodlight
Floodlights are available in different types according to different scenes. Generally, they are categorized into three categories, such as conventional floodlights, motion sensor security lights, and dusk-to-dawn floodlights. You can choose a traditional floodlight under everyday situations to illuminate an area for a longer time. You can switch on/off a conventional floodlight manually.
If you need a light that can work automatically by sensing the light condition, choose a dusk-to-dawn 150w led flood light. Motion sensor security floodlights are suitable when you need to illuminate an area occasionally. Such places include warehouses and garage doors, etc.
In a nutshell, you should buy a led floodlight that is energy-efficient, durable, and well-designed. Choosing the right quality led floodlight will save you money in the long run while providing adequate light in your area.
For More Information, Contact Us Today!