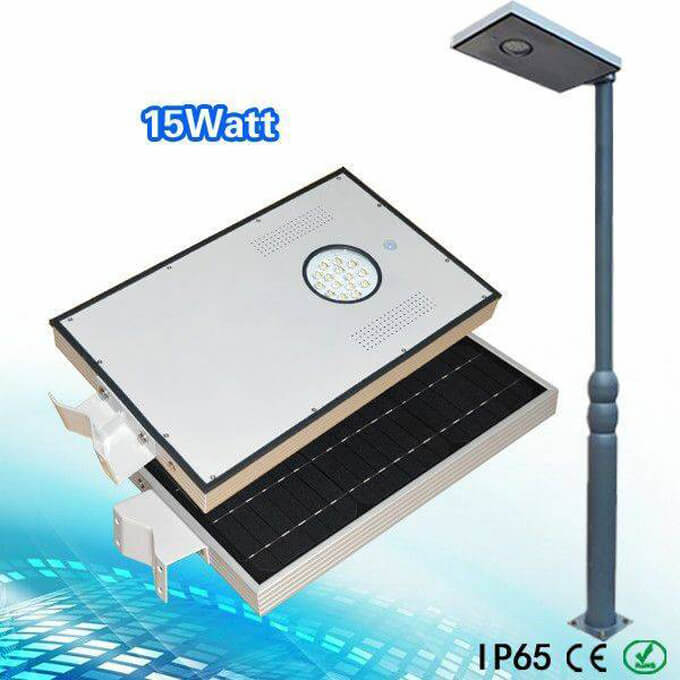 15w All In One Solar LED Street Light
دقيقة. كمية الطلب: 100 قطعة
معلومات سريعة
منذ إنشاء علامتنا التجارية الخاصة MIC LED ، مع قدرة قوية على البحث والتطوير ، وفريق تقني محترف وخبرة غنية في الصناعة ، نطلق منتجات جديدة تتجاوز توقعات العملاء كل عام ، والتي تقود دائمًا اتجاه الصناعة.
مواد المصباح: سبائك الألومنيوم
عمر المصباح:> 50000 ساعة
تصنيف IP: IP65
فترة الضمان: 3 سنوات
15w All In One Solar LED Street Light
1. تصميم متكامل للوحة شمسية ، بطارية ، وحدة تحكم ، ومستشعر ، 100٪ تعمل بالطاقة الشمسية الخضراء.
2. 50000hours عمر طويل ، ضمان 3 سنوات
3. ماء IP65
4. تعليمات طريقة العمل القياسية
مستشعر الخلية الضوئية: النهار لا يعمل ، يبدأ الليل في العمل.
Time control: the first half of the night, for 6 hours, 50% power working, the second half of the night, for 6 hrs, 25% power working.
Motion sensor: when people or other moving something like a car are moving, and then the power will increase 100%, such as 50% will turn into 100%, 25% will turn into 50%.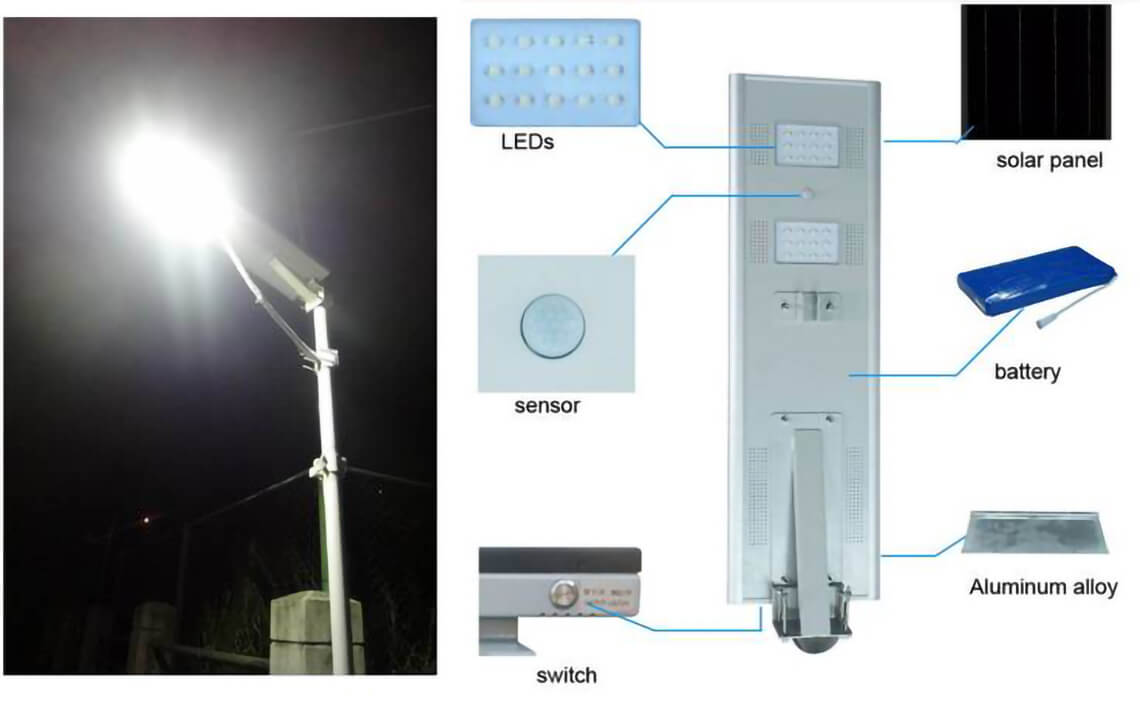 | | |
| --- | --- |
| اسم المنتج | 15w all in one solar LED street light |
| نموذج رقم: | MS-215 |
| Led max power | 12v 15w 2000-2200lm |
| Led chip brand | US Bridgelux |
| Solar panel Max power | 18V 20W (high efficiency imported silicon solar cell) |
| Solar panel Life time | 25 years |
| Battery Type | 12V/18AH lithium battery |
| Charge time(by sun) | 6-7hours (with enough strong shine) |
| Discharge time | 3-4 rainy days |
| Working TEMP( ℃ ) | -20~+60℃ |
| CCT (k) | 6500k-7000k |
| مؤشر تجسيد اللون (CRI) | > 80 |
| Mounting height(m) | 4-5m |
| Space between light(m) | 10-15m |
| Lamps material | aluminium alloy |
| شهادة | ISO / CE / ROHS / IP65 |
| Warranty period | 3 سنوات |
| عمر المصباح | > 50 ، 000 ساعة |
| مستوي رقم التعريف الألكتروني | IP65 |
| الوزن الصافي | 6KG |
| الوزن الإجمالي | 7KG |
| حجم المنتج (مم) | 480*360*50mm |
| حجم العبوة (مم) | 810*360*185mm |